---
Main content
Top content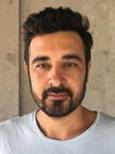 Şamil Sarıkaya, M.A.
Şamil Sarıkaya
Politikwissenschaft:
Migration und Arbeit, Ethnic Economy, Arbeitsbedingungen, Unternehmertum, Identitätskonstruktion, Gentrifizierung.
Seit 2018 Doktorand am Institut für Migrationsforschung und Interkulturelle Studien (IMIS) unter Betreuung von Jun. Prof. Dr. Antonie Schmiz, seit 2018 Stipendiat des Programms "Wissenschaft.Niedersachsen.Weltoffen", Förderung: VW Vorab.
Dissertationsprojekt: "Where is the Street of Arabs? New Aspects of Berlin's Sonnenallee"
Das Dissertationsprojekt untersucht die Entwicklung von Ethnic Economy in Berlin anhand des Beispiels Sonnenallee in Berlin-Neukölln. Dabei stehen die Beziehungen zwischen migrantischen Unternehmer*innen, deren Arbeiter*innen und der Kundschaft im Mittelpunkt. Untersucht wird zudem, wie insbesondere nach 2015 die neu angekommenen Migrant*innen den Gentrifizierungsprozess und den Markt in Neukölln beeinflusst haben. Methodisch wird mit der Teilnehmenden Beobachtung sowie biographisch-narrativen Interviews gearbeitet.
2012- 2015: Masterstudium der Politikwissenschaft an der Yildiz Technical University in Istanbul
2005 – 2010: Bachelorstudium der Politikwissenschaft an der Kocaeli University in Kocaeli
Publikationen
2018
Book Review, Im Westen nichts Neues? Perry Anderson 1978: Über den westlichen Marxismus. Syndikat Verlag, Frankfurt am Main, in: kritisch-lesen.de
2017
"Eine gigantische Baustelle" (article on the nationalist dimension of the Turkish government's urban planning policy), 3.2.2017 in: taz.die tageszeitung, Berlin.