---
Main content
Top content
IMIS Library
Research library of the Institute for Migration Research and Intercultural Studies (IMIS)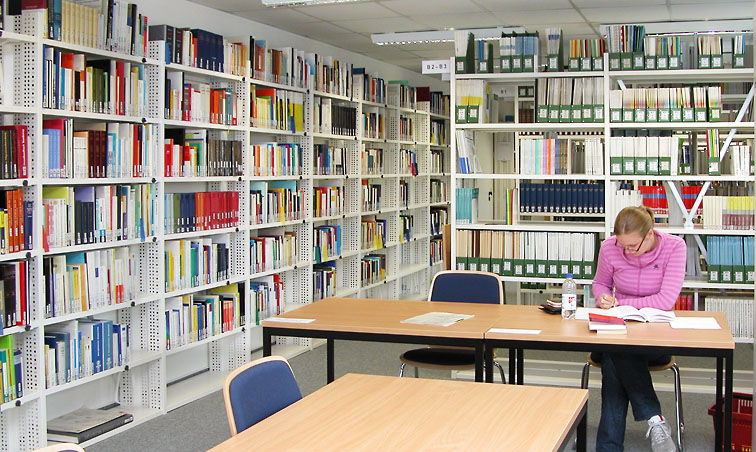 Address
Osnabrück Unversity's Library
IMIS Library
Alte Münze 16
49074 Osnabrück
Information and contact
Beate Mrohs, Librarian
phone +49 541 969 4776
E-mail: bmrohs@uni-osnabrueck.de

The IMIS Research Library, now located within the University's main library at Alte Münze 16, houses nearly 12,000 books and more than 2,300 issues of journals covering all areas of migration research. The library holdings are organised by a special classification.
By mid-June, it will be possible to lend the IMIS library's books.
The library's book and journal collections can be found through the online catalogue OPAC of the University Library. Books of the IMIS-Library are labeled with the location abbrevation IMIS.
Specific information
Databases: The Database Information System (DBIS) is a service that lists online databases, which can be used for the enquiry of literature and specific research. To search in the field of migration studies there is a collection of relevant databases under the heading "Migrationsforschung und Interkulturelle Studien" (Migration Research and Intercultural Studies).
DBIS is a co-oparative service that was developed by Regensburg University; numerous German libraries are participating. The databases are either in alphabetical order or can be shown by subject as well as by local collections. The DBIS collection of Osnabrück University on migration research includes nearly 80 databases. The range of databases is constantly updated.
E-Journals are listed in the Electronic Journal Library (EZB). Also EZB is a service that is maintained by Regensburg University with the effective purpose to fully access scientific Journals online. The titles are gathered in a cooperative mode before the data is added into the central database. Due to steady modifications a collection of titles concerned with migration research has not been compiled. The clear structure of search tools should still lead to results in this particular area.
eBooks are linked through the online library catalogue OPAC. For a broad enquiry a list of eBooks sorted by subject can be helpful.
The Repository (repOSitorium) allows members of the University to publish their documents online. An introduction to the purpose as well to technical, content und legal conditions for repOSitorium are to be found in the guidelines, so far only in German. A Collection of publications of the Institute for Migration Research and Intercultural Studies can be found.