---
Main content
Top content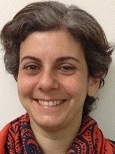 Bediz Yilmaz-Bayraktar, Ph.D.
Universität Osnabrück
IMIS
Tel. +49 541 969 4916
Bediz Yilmaz-Bayraktar, Ph.D.
Urban studies, agriculture, migration and refugee studies
Bediz Yılmaz-Bayraktar did her undergraduate studies in political and administrative sciences. She received her PhD degree from the French Institute of Urban Studies (University of Paris VIII / 2006) with a dissertation on the social exclusion of forced migrants (Kurdish IDPs) in a slum neighbourhood of Istanbul. Her research interests include (forced) migration, urban / rural continuum, spatial segregation, social exclusion, gender and social policies. She is currently working on the forced migration / forced labour nexus on the example of Syrian refugees working in the agricultural sector in Turkey and also on the spatial impacts of forced migration flows. After working as assistant professor in the Department of Public Administration at Mersin University between Sept. 2006 - Aug. 2016, she worked as KOSMOS Summer University Fellow at BIM / Humboldt University in Berlin (Nov. 2016 - Jan. 2017) and since February 2017 she is Philipp Schwartz Fellow at IMIS. Since January 2018, she is a member of IMIS, and since September 2020 a corresponding member.
see: Press release, Osnabrück University
Selected publications
(2017) "Authoritarianism and Xenophobia in the New Turkey", HarekAct, Sept. 20, 2017., harekact.bordermonitoring.eu/2017/09/20/authoritarianism-and-xenophobia-in-the-new-turkey/
(2017) "Contested B/Orders.Turkey's Changing Migration Regime. An Introduction" (with Ilker Ataç, Gerda Heck, Sabine Hess, Zeynep Kaslı, Philipp Ratfisch and Cavidan Soykan) Editorial Introduction, Movements, Special Issue on Turkey's Migration and Border Regime, Vol. 3, Issue 2/2017. (2016) "Libéralisation de l'Etat social en Turquie: Une reflexion sur les aides sociales conditionnelles" in Adadağ, Özgür (Ed.), Etat dans Tous ses Etats, L'Harmattan. [French]
(2015) "Spatial Segregation and Politics of Equilibrium in Mersin: Unintended Consequences of Forced Migration" in Güven Şeker, Ali Tilbe, Mustafa Ökmen, Pınar Yazgan Hepgül, Deniz Eroğlu, Ibrahim Sirkeci, Turkish Migration Conference 2015 Selected Proceedings, London: Transnational Press London, 314-322.
(2013) "Transformation of Turkey's Welfare State and Social Aids: An Assessment on the Women Beneficiaires of Conditional Cash Transfer", Proceedings of Social Rights Conference: Human Rights for Social Justice, Center for Human Rights and Citizenship Studies, TODAİE: Ankara. [Turkish]
(2011) (with Doğan, Ali Ekber), "Ethnicity, social tensions and production of space in forced migration neighbourhoods of Mersin: comparing the case of the Demirtas¸ neighbourhood with newly established ones" Journal of Balkan and Near Eastern Studies, Volume 13, No. 4, December, 475-494.
(2008) "Entrapped in Multidimensional Exclusion: Perpetuation of Poverty among Conflict-Induced Migrants in an Istanbul Neighborhood", New Perspectives on Turkey, no. 38, Spring, 205-234.