---
Main content
Top content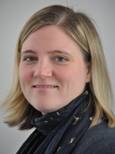 Lisa-Marie Heimeshoff, M.A.
Lisa-Marie Heimeshoff
Soziologie
Soziale Bewegungsforschung; Migration und Arbeit; Minderheiten; Gewerkschaften; Mittel- und Osteuropa.
MA, geb. 1984; von November 2014 bis September 2020 Wissenschaftliche Mitarbeiterin an der Professur Migration und Gesellschaft. Dissertationsprojekt zur Interessenvertretung von Roma in Tschechien und Deutschland.
Masterstudium in Global Political Economy an der Universität Kassel und der Rutgers University in Newark, NJ. Bachelorstudium der Europa-Studien an der TU Chemnitz und der Masaryk-Universität in Brno, Tschechien. 2011-2014 Wissenschaftliche Mitarbeiterin am Fachgebiet Politik der Arbeitsmigration und am International Center for Development and Decent Work der Universität Kassel, Koordinatorin des Research Networks for Domestic Worker Rights. Projekte "Vielfalt sucht Rat" der Heinrich-Böll-Stiftung am Max Planck Institut zur Erforschung multireligiöser und multiethnischer Gesellschaften und "Fundamental Rights Situation of Irregular Migrants in the EU" (FRIM) an der Universität Kassel.
Publikationen
Grenzregime II. Assoziation A (Hg., 2014, zusammen mit Sabine Hess, Stefanie Kron, Helen Schwenken, Miriam Trzeciak).
Forschende Aktivist_innen und aktivistische Forscher_innen, in Grenzregime II (2014, zusammen mit Anne Lisa Carstensen, Jenny Jungehülsing, Maren Kirchhoff, Miriam Trzeciak).
'We want to be the protagonists of our own stories!' A participatory research manual on how domestic workers and researchers can jointly conduct research (2014, zusammen mit S. Azzarello, J. Fish, S. Günther, C. Hobden, M. Kirchhoff, H. Schwenken). Kassel. Kassel University Press.
Prekäre Organisierung – Haushaltsangestellte in der Tschechischen Republik, in: Johanna Krawietz & Stefanie Visel (Hg.): Prekäre Anerkennung – Qualifikation und Arbeit in der grenzüberschreitenden Pflege- und Haushaltsarbeit (2014).
"Das bisschen Haushalt ... sagt mein Mann" - Die politische Regulierung von Haushaltsarbeit und Implikationen für die geschlechtliche Arbeitsteilung, in: Arbeit - Zeitschrift für Arbeitsforschung, Arbeitsgestaltung und Arbeitspolitik, 22 (3), p. 199-211 . (2013, zusammen mit Helen Schwenken).
Three Different Things - Having, Knowing, and Claiming Rights: Undocumented Migrant Domestic Workers in Germany, in: Anna Triandafyllidou (Hg.), Irregular Migrant Domestic Workers in Europe: Who Cares?, Aldershot: Ashgate (2013, zusammen mit Helen Schwenken).
The ILO Convention "Decent Work for Domestic Workers": Improvement of Rights for Domestic Workers? Multikulturní Centrum Praha (2011), http://migrationonline.cz/en/the-ilo-convention
Review: Susanne Jörg, "Gehen Sie freiwillig oder sollen wir Sie abschieben?" Eine Ethnographie der Duldung. Saarbrücken: VDM, 2010 (139pp), in: Austausch, Vol. 1, No. 1 (Apr. 2011), http://www.austauschjournal.net./Issue1/Review_Heimeshoff.pdf.
Cooperation or Confrontation? Migrant Political Participation in Essen and Newark, Working Paper New Research in GPE 2011, Kassel.
Domestic Worker Count. Domestic Workers Worldwide, Geneva: International Union Federation 2010 (Hg. zusammen mit Helen Schwenken)
Beistands- und Solidaritätsklausel im Vertrag über eine Verfassung für Europa, in: Matthias Niedobitek/ Simone Ruth (Hg.), Die neue Union, Berlin: Duncker & Humblot 2007, 75-93.